HGH Miracle?
Forget about $2000 a month HGH injections to keep up your hard body, now you can get the same results with supplements that accelerate the natural HGH secretions in your body. Learn what it takes to help build lean muscle mass, strengthen your immune system, increase bone density, and even prevent wrinkles. [click for HGH]

High School Athletes Embrace Yoga

More and more high school athletic programs are using yoga as a way to supplement their strength-building programs. What was once the joke of the crunchy-granola crowd has now become the ideal way to keep young minds focused and their bodies lean and flexible. [click for Yoga]

Staying Fit

The hardest part about your workout routine is staying on it. Boredom seems to set in quickly especially if you're not seeing the results you want. Here's some advice on how to stay the course and keep your sights on your goal for a ripped lean hard body. [click for Staying Fit]



Ab Anatomy

If you're attracted to the models here on GSR, you're probably wondering how they get and maintain ripped abs. Here's the scoop on using the latest workout technology and working out your abs the right way. Hint: it's all about your Core... [click for Rock Hard Abs]



Build Your Ripped Body
It's time to fine-tune your spring workout routine if you want that hard body you've been lusting for by this summer. Learn how to work out faster and smarter to get the results that will help you lose weight, tone down, lean up and get ripped. [click for Summer Body]








Gluteus Maximus
It's Greek for hubba hubba. Everyone loves one, some guys are born with one, but unfortunately most of us aren't. Read how much healthier it is for you to concentrate on building lower body strength, how it actually helps you stay lean, and how much sexier it is than all that pecs and biceps shenanigans. [click for Bubble Butt]



Dynamic Stretching
Throw away everything you've learned about stretching... you've been doing them wrong. Old school static stretching could actually be setting you up for injuries. Read how dynamic stretching, sort of like crawling around like you're Spider-Man, is better. [click for Dynamic Stretch]


Home of the Whopper

It's on every guys mind: Am I big enough? Relax, you'll be surprised to find out you're probably average just like the majority of guys. Still concerned? Read the article and figure out where you stand and whether you really need to fret about how much bigger your friend looks when you watch him in the showers. [click for Whopper]


The Rules of Attraction
So you're gay and totally accepted by the entire swim team and they treat you just like you're one of the guys, so what exactly are the rules of attraction and how sacred should you keep those rules especially when they're comfortable with you in the locker room? [click for Showers]

I Want You Now

Is he your bf or just your bff? Do you guys even know yet? Sometimes it's ok to have a summer crush regardless of how far you've taken it. Check out some of the guys we've gathered and decide for yourself whether they're a couple or just a couple of guys hanging out.
[click for Want You Now]


Man With A Mission
How do you take a fledgling high school football team and turn it into one of the nations most elite powerhouse football programs? Read the inspirational story of one man's destiny to teach young teen boys the real meaning of what it takes to be a successful teen athlete.
[click for Spartan Football]



Technological Doping?

the Ancient Greeks had the right idea: In their Olympics, the athletes were naked.
But the biggest star to emerge from the pool this year's Summer Olympics won't be Michael Phelps or Natalie Coughlin or any of the other swimmers who could win multiple golds in Beijing.
The biggest star this summer won't be a record-setting swimmer but the swimsuit that the record-setting swimmers are guaranteed to be wearing: The Speedo LZR Racer, which forces swimmers' bodies into an aerodynamic shape and repels water as they swim. 44 world records have been broken this year by swimmers wearing the LZR Racer, and by the time you read this, that number will probably have gone way up.
The suit has caused controversy in the swimming world with some insisting the Olympics are supposed to be about who's the best athlete, not who has the best technology.
The technological specs of the LZR Racer are explained on Speedo's official web site, but the claims made by Speedo aren't just advertising mumbo jumbo.
Even on those lean Olympic athlete bodies, simmer's skin is flapping around all over the place while swimmers move through the water in an ordinary swimsuit, and that creates drag that slows swimmers down. The engineers who developed the LZR Racer have made reducing that drag their top priority. They've also made the midsection of the suit tight to keep swimmers' posture perfect.
Rival swimsuit maker, TYR Sport -- which says its own high-tech suit, the Tracer Rise, is just as good as the LZR Racer -- will not allow its affiliated swimmers to wear the LZR Racer. Nike's swimmers, on the other hand, don't have to wear Nike suits in competition.
No one disputes that the LZR Racer gives swimmers an advantage, but the question is whether all that technology gives swimmers an unfair advantage. Italy's top swimming coach, Alberto Castagnetti, says it absolutely is unfair. He has compared wearing the LZR Racer to using steroids, calling the use of the suit "technological doping."
Castagnetti's point is worth discussing, but with the Olympics here, it's far too late to stop swimmers from wearing them. It seems clear that there are going to be two classes of swimmers in Beijing: the dominating athletes wearing the LZR Racer and everyone else.
After Beijing, however, the International Olympic Committee and FINA, the sport's governing body, might consider whether stricter standards should be implemented in dictating what swimmers are allowed to wear while they compete. My vote is to go old school: the athletes were naked.
---
Home of the Whopper

Am I Big Enough? Even in our supposedly hip world, gay teens fret about their penis size. Even though the average guy has more than enough thickness to satisfy their mate, there is a common obsession that 'bigger would be better'.

GSR gets a ton of emails from gay teens who question or worry that they're too small. And it seems from all the spam emails everyone is bombarded with, tons of cash can be made by exploiting this obsession, but other than surgery, we're sorry to report there is little that is clinically proven to increase your dick size.

Size matters

To the average gay teen, his penis is, consciously or unconsciously, one of the most important things in the whole world. Usually in his tweens he discovers it and immediately becomes fascinated by it.

Then comes gym class and comparisons: 'Isn't mine smaller than the other guys?' Look at my friend Cal's, he's way bigger, right? Then he asks himself if he will be as big as that, but remember, you're looking down at yours and you're most likely looking directly at theirs, it's all about perspective. I guess you could ask your friend to get hard and then compare both of them side by side, but some guys would probably spaz or maybe not.

I think it's pretty common that guys go through life always a bit sensitive about the size of his dick, always thinking it would be nicer if it were just that little bit thicker and longer.

A lot about size can be mental. We have heard from guys who have problems with impotence ( ED - erectile dysfunction) after some other guy made a remark about their tiny dick. But almost all of these guys actually had a perfectly normal sized dick. Each one just thought he was small compared with other guys.

Perspective

The trouble may be that every guy seems to see his own dick in a foreshortened view. The angle at which you look down inevitably makes your penis seem shorter than it is.

But when you look across at another guy's dick, there's no such foreshortening effect, so very often it'll look as though the other guy is bigger, thicker.

Virtually every guy does a quick mental check on each naked guy he sees and that glance can easily make you feel a bit inadequate. But it's important to realize the facts about penis length.

Average Penis Size

A non-erect dick usually measures between 3-4 inches from tip to base.

The average size is about 3.75 inches, but this kind of measurement is really valueless. Many factors can cause a temporary shrinkage of two inches or more, for instance cold weather or going swimming, so all you swimmers and surfers, don't worry if you happen to fall short of the average figure.

Of course, it's true that some guys have big dicks, usually the ones that have their picture taken, and some have smaller ones, just as some men have small feet and some have big feet, but on the average most guys fall in to the 5-inch range (erect).

Most guys tend to think the bigger a guy's body is, the bigger his dick will be, but that isn't always the case. Same with big hands or big feet. A Masters and Johnson study measured the penis lengths of more than 300 guys. The largest dick was 5.5 inches soft. It belonged to a skinny guy who was 5' 7" tall. The smallest dick measured 2.25 inches and belonged to a stocky guy, 5' 11" tall.

Average Size of Erections

How long should your dick be when it's erect?

Interestingly, most penises are about the same size when erect. The guy whose non-erect penis is smallish will usually achieve about a 100 per cent increase in length during sexual excitement. The man whose non-erect penis is on the largish size will probably manage about a 75 per cent increase. This means the great majority of penises measure between 6-7 inches when erect, with the average figure being about 6.5 inches.

So maybe you don't show very big but eventually it will grow to an average size when erect.

Sex and Guys

So even though big dicks are sexy to look at, every guy forgets that it really doesn't matter how long or how short your penis is, because the ass will accommodate any length with usually the longer ones actually causing discomfort and the thicker ones being the most pleasurable .

If You're Still Not Happy With Your Size

If you're worried that your dick is the small, go and see a doctor.

It's best to find a doctor that specializes on men's issues. You can usually find these doctors at (google it): Private 'Men Only' clinics, but make sure these aren't run by quacks, make sure you read reviews by former patients. Urology clinics, and Sexual medicine clinics.

What About Treatments to Increase Dick Size?

Many online sites claim they know how to enlarge your dick - for a price.

At many of the medical conferences this year, at which leading experts have spoken about penis size and penis enlargement, the opinions on the various methods that are so widely advertised to the public were summed up as follows: Pills or patches for increasing penis size: a complete waste of time. Penile enlargement surgery: of uncertain value and sometimes dangerous. Penile enlargement exercises: pretty futile. Penile suction devices: works but probably of little longterm results. Experts do say that the relatively new stretcher or extender devices may sometimes be of value in giving a man a little extra length.

Is There Surgery to Increase Penis Size?

Private clinics now offer operations that claim to make the penis look bigger. The expense of this type of surgery is very great and there is a risk of complications like bleeding, infection or deformity (gross).

One of the most common surgical procedures that's been popular since 2005 is slicing through the ligament that supports your dick.

This makes your dick dangle more, so it looks longer when soft. But it will make no difference to the size of your erection - and it won't come up as high as it used to before the operation.

Another type of surgery injects your own fat into your penis to make it more bulky. This may not work, and it can lead to a deformed dick.

Penis Stretchers

Some urologists are using a special extending frame to stretch the penis. These 'stretchers' are small rectangular frames that you wear on your penis for hours at a time, every day. They pull your organ out to its maximum length, and the idea is that it will gradually remain longer. The devices are undetectable under your jeans. Doctors don't think these devices are some sort of miracle discovery, but one surgeon reported that a group of men achieved an average increase in length of 1.8cm after using the device daily for four months. This is less than three-quarters of an inch, but for some guys this would be significant.

So really you should be happy with the size of your dick just the way it is. Actually some people prefer smaller dicks and some think they're hot. So to each their own I guess...
---
Online Teens Getting Hip
Young g's wary about posting too much personal information on social-networking sites - When Austin Smith joined social-networking site MySpace a few years ago, he filled his online profile with all sorts of details: his hometown, the name of his high school, his year in school, his friends, his job, his hobbies, even the car he drives. All of a sudden he started getting friend requests from guys he never ever knew or had no connection to whatsoever. After a bit of investigating through some IMs, Austin realized the 'boys' he was chatting with were actually older men.

About a year ago, as Austin began learning more about MySpace and the risk of revealing too much online, he changed his page. He made the site private so that only his approved friends could see it. He used his middle name instead of his first name. He deleted personal details and photos that could make it easy for a stranger to figure out who he was and where he lived. And he encouraged his friends to do the same, just for protection.

"When I first got MySpace, I didn't think so much about it. It was so new that no one really knew about it," said the 17-year-old student at Monte Vista High School. "I used to have everything in it about me. That's something I've changed."

Gay teenagers are becoming more savvy about how they use MySpace and Facebook, the popular social-networking sites where teens hang out and express themselves. A survey released by the Pew Internet & American Life Project found that two-thirds of all teenagers who use social-networking sites keep their profiles private, and nearly half include false information.
The report comes as more social-networking sites are being scrutinized, and parents and teachers raise concerns about online safety. In a high-profile case, four families sued MySpace earlier this year after their teenage boys were convinced by boys they met online to meet that turned out to be older men pretending to be younger boys.
A survey of 1,000 gay boys ages 12 to 17 and their parents suggested that, just as social-networking sites have evolved, so have their members. They're getting smarter about what they publish online and what they don't. It's not the fact these are older guys, it's that they're pretending to be someone they're not, usually someone younger.
"I think gay teens are getting the message," said Justin Hart, a senior research specialist with Pew and co-author of the report. "A lot of teens have been bombarded by the message that social networks are not safe. This is something teens are living with and swimming with every day and that's reflected in the steps they're taking."
More than half of gay teenagers who use the Internet post profiles of themselves online. Of them, 82 percent use their first name in their profiles. Nearly 80 percent post photos of themselves, 61 percent disclose their hometown and 49 percent give the name of their school.
Still, some gay teenagers provide more information: 11 percent of gay teens on social-networking sites publish their first and last names on their profiles and 2 percent have included their cell phone numbers. "The teens you worry about are the innocent ones who do take risks," Lenhart said.
Despite precautions, 32 percent of gay teens online said they have been contacted by strangers, usually older men. The report cautioned, however, that in some cases, the strangers could be rock bands, artists or politicians such as Hillary Clinton and Barack Obama, who both have MySpace profiles. But about 7 percent said the encounter left them uncomfortable.
It's not just predators, of course. Shawn Brock, a senior at Northgate High, said he has been careful, using only his first name on his MySpace page, because he knows that employers and college recruiters check out candidates online. "You have to make yourself harder to find," he said.
He and other gay teens reason that their profiles are there just for their friends. "If someone doesn't know me, I don't see the reason for them to be looking at things about me," said Igor Hillton, 18, a college student from San Ramon who uses Facebook. "My profile is not for people I don't know. It's for people I do know."
Senior Matthew Preston said he simply does not meet people online if he already doesn't know them. "That's all kind of sketch to me," he said.
Gay teens are learning in part from each other about how to behave on social-networking sites. The report found that they generally feel comfortable sharing their age, whether they have a boyfriend or not, favorite movies and music, photos and their pets online. But they said they never share their home address or number, passwords or personal information such as Social Security numbers.
"Young gays are very cognizant about what they should share and what they shouldn't share, more than we give them credit for," said Fred Stanford, a graduate student at the University of Miami who is studying social networks. "Students talk to each other and share experiences. They learn what to do from each other."
Parents of gay teens are learning, too. More than half said they use filtering software on their home computers, and nearly half said they have monitoring software that records what users do online. Nearly two-thirds of parents also said they check up on their children's online activities.
Thomas Siemple, a senior at Foothill, said his mother asks to see his MySpace page once a month. He shrugs it off. His MySpace page today "has a picture and my heroes and that's it."
---
Swimming Upstream
The great literary critic Lionel Trilling once observed "Every man's biography is to be understood in relation to his father." For some, this important figure is a parent or role model and a source of wisdom and insight. But for some others, their father is a shadowy figure, at the periphery, working all the time, and distant in his emotions in the family life. And for some unlucky ones, their father is a nightmare, a constant living threat to their well-being and self-esteem. The nightmare father figure looms large in this true story of an Australian swimming champion during the 1950s. The film is directed by Russell Mulcahy based on the book by Anthony and Diane Fingleton.

Harold Fingleton (Geoffrey Rush) works on the docks in Brisbane, Australia, during the 1960s. He is a abusive violent alcoholic whose own terrible childhood has cast a dark cloud over his adulthood and everybody in his own family suffers. His wife Dora (Judy Davis) tries desperately to cope with his depression and irrational mood swings. His four sons and one daughter never know what to expect next from this angry man that is their father.

Harold Jr. (Kain O'Keefe as a boy and David Hoflin as a teenager), the eldest boy, is the bully in the family and constantly picks on Tony (Mitchell Dellevergin, Jesse Spencer) because he plays the piano and is his mother's favorite and Harold figures him for a puffta. But Tony is very close to his brother John (Thomas Davidson, Tim Draxl), and they both turn out to be very good swimmers after messing around during their summer breaks at the local pool. When their father discovers this, he becomes excited about the prospect of winning and soon becomes a hard taskmaster as their informal coach and even manages to get them into a prestigious Catholic school for free after convincing the priest that they will add honor to the school by winning medals as champion swimmers.
Most of the drama in this story does not take place at the swimming meets but in the repeated abuses of Tony's soul by his cruel distant father, who seems to take special pleasure in denigrating his athletic achievements and ignoring them completely. Early on Harold chooses John as the best of the two, swimmers and he constantly taunts Tony as being too weak as a puffta referring over and over his piano playing. Harold plants a wedge between the two close brothers as his strategy pays off by putting the two brothers in competition with each other and dashing the close bond that they shared when they were young boys.
In a crucial scene, the mom tells Tony that he cannot forge his future based on what his father thinks or does to him; he must come up with his own dream and take his best shot at it. It is easy for a young child who is consistently picked on to give up and settle for being a victim of injustice but Tony's mother's unstinting love and devotion helps pull him past this pitfall. The surprising choice that Tony makes for his life path is one that stuns Harold and proves the boy's strength and devotion in the face of so much emotional suffering.
Swimming Upstream explores many issues that will resonate with those who were attacked but not broken by fathers that don't know how to parent.
---
Rules of Attraction
His name is Kyle and he's been my friend ever since I joined the swim team as a freshmen. He's sophmore but I guess it doesn't bother him that I'm younger, we get along great and he's always been cool with me. Cool even though I'm gay.

Kyle's popular on the swim team and in school but that doesn't mean he hasn't gotten flak for having a gay guy as one of his best friends. In fact, he's said that he purposely sought someone 'different' from him to befriend so he could make a statement. Letting everyone know he was shallow and superficial and only interested in being like everybody else in the crowd

Nope, Kyle is different. I mean he doesn't look different, he looks just like every other swim jock you see in any high school USA, but he's different in his thinking. I mean he thinks deep thoughts and doesn't blurt out what he's thinking but show it in his actions. He says it's something to do with him setting an example for himself and for everybody else that aspires to be like him.

Yep, Kyle is the all American jock, except he's got feelings and emotions that he keeps inside but demonstrates through his actions.

Yep, Kyle rocks, and I've been into him from the very first time he ever spoke to me. Only problem is he's straight and I'm gay. Apparently this doesn't bother him but there are times when it really frustrates me.

When I was a freshmen, I didn't even know that I wanted to swim, I just knew that I wanted to join some school team but none of the other sports were really my thing and I knew I probably couldn't excel at them as much as I could swimming. I've swam since I was a little kid. My mom thinks I'm part dolphin.
I tried out for the swim team by myself but I knew that my skills would get my teammates attention and it would be easy for me to make friends. I never really thought me being gay would be an issue. I mean it's the swim team not football and we're all practically naked most of the time anyway so it's not like I'm trying to start something with one of them when they're not into any of that.
So right from the beginning I let my teammates know I was gay. The would always hoot about girls or talk about their past weekends adventures and anytime they would ask what I did I would just be honest and say that I was dating some random guy but it was no big deal. No one had any issues with it but they did love giving me gruff about it, in a friendly way though. I felt accepted, I felt comfortable.
When you're on the swim team you don't wear much as a uniform so it's not like you can't figure out what's going on with any of your other teammates. The speedo's we wear pretty much reveal everything especially if the guy has a monster d ck or is excited about something for some reason.
I'm average sized so I don't reveal much when I'm in my speedos but I noticed Kyle had more of a bulge whenever he was around me. I didn't want to get my hopes up or project any feelings I might have for him 'cause I didn't want to freak him out so it was surprising for him to say one day that he thought I must be popular with the boys I meet 'cause I was cute.
Ok, so Kyle is not only a superstar cool guy but he can also recognize when a guy is hot. Is he the perfect friend or what? Or is he just trouble 'cause I may find myself getting more attracted to him and finding myself in one of those silly str8-gay crushes?
I don't really know. All I do know is that he treats me just like anyone else, actually he treats me better and he's like my very best friend, at least on the team and in school. There's just one thing though... the showers.
I don't know what it is with me or whether I'm a perv or something, but sometimes when I'm in the shower and I'm not just shooting the shit with the other guys. Like when I'm one-on-one with Kyle, well, I sorta get excited. I mean it never happens when other guys are in the shower room and we're all talking about the meet. No, it's usually only when I'm talking with Kyle and we make eye contact. That's when I lose it. I mean I don't even know if the other guys would care, it's just they've never seen any of that when they're in the shower and they actually purposely show off what they've got to me asking whether that turns me on. I just fake a yawn and say 'no thanks, doesn't impress me' and they usually laugh it off or cower in the corner wondering why what they're packing isn't desireable to me (it is).
So the first time Kyle saw that I was having a reaction to our conversation, he asked me, he asked 'dude, what's up... did you want to say something about that?'. I just laughed and said no, that that's what happens when I find someone attractive whether they're available to me or not. He just smiled and said that he understood 'cause if a hot girl was talking to him in the shower, he'd probably have the same reaction. Then he pondered that and sorta got hard. See? I said!
So yeah, does it matter that I'm gay and I shower in the same room as straight guys? Not that I know of. Now granted I would never make a move on any of my teammates, out of respect, not because none of them are hot 'cause they all are. But it feels good knowing they trust me and can understand my situation and be comfortable with it, especially Kyle.
---
First Team 2007
Adrian Astin | Mission Bay, Senior

Astin won the 100-yard butterfly and 100 breaststroke at both the San Diego County and Metro meets, swimming an all-American time in the butterfly and helping the Buccaneers to the county title. Astin first learned to swim when his dad threw him in the family pool when he was 4 years old. Astin's been swimming ever since. He's the only one in his family that swims but he comes from a family of 4 brothers and they all surf and joke around a lot about his speedos but he doesn't mind. 'I win medals and trophies for the school. If that means wearing speedos and being ridiculed then I don't mind, besides, all the gay guys (and some straight) like that more of my body shows when I'm swimming in speedos. I'm a bit of an exhibitionist so it suits me well (pun intended)'. Astin hasn't come out as a gay teen nor does he admit he's gay. He does however remain vague when asked whether he likes the girls or guys at his school. We don't care, he's eye candy and super cool regardless.





Nick Connor | Torrey Hills, Junior
Connor swept the 50 freestyle at the divisional, county and Metros championships. His time of 21.52 seconds at Metros earned all-American consideration. Also won the San Diego County 100 freestyle title. Conner comes from a small family that all grew up in San Diego. He's naturally athletic and has been swimming since the third grade. Conner is the team captain and just recently came out as a gay teen. When asked whether he preferred to be in the closet or out he smiles shyly and says that coming out for him has been the best experience ever. He's currently dating one of the other gay guys on the team but won't say which one. Can you pick the lucky guy?
Cody Cooper | St. Augustine, Junior
In two years, Cody has yet to lose a diving competition. His point total of 551.70 at Metros set a meet record by more than 17 points and was nearly 125 points ahead of the second-place finisher and he's pretty excited about that. Cody is one of our favorite swimmers and well, maybe it's 'cause his speedos fit him so well (wink, wink). When I pointed out to him, at the last swim meet we were at, that his suit was extremely revealing, he laughed and said there was nothing he could do about it and perhaps I should blame his parents' gene pool. Suffice to say, Cody must make any guy or girl super happy, very happy.
Jack Coran | University City High, Senior
Jack led the Stags to their first WMPSSDL championship with wins in the 200 and 500 freestyle. Jack also anchored the 400 freestyle relay team that set a Metros record. Jack is the gay guy on the team that everyone kids about 'cause he's always so white. Jack says he doesn't surf or do much of anything out in the sun, and even when he does he doesn't do it with his shirt off. A bit of a shy guy, Jack says he's more of an academic then a jock but his swimming proves him otherwise. Jack picked up swimming from his childhood friend that he remembers as having a big ol' crush on and the only way to be close to him was to learn to swim, and so, Jack did. I asked him what happened to his school boy crush and he smiles and says that even though Jonathan moved up to the Bay Area, they still keep in touch. See? there is such a thing as a happy story.
Drew Finest | Mount Carmel, Senior
The three-time all-American won California AAA 200 and 500 freestyle titles and set a state record in the 500 (4:34.83). Also won Northern Region and Patriot District titles in those events. On the opposite end of the spectrum is Drew. He's not shy about being a gay teen and he's the epitome of a high school jock. He not only swims but he surfs and actually ranks in the WSP. I asked if his surf bros give him sh t for swimming and wearing speedos, he says no but they do give him sh t when he kisses his boyfriend in front of them but that doesn't mean he won't do it. I asked if he got into many fights and he said no, you see he's also a safety for the football team and if anyone got out of line he's got some super big lineman friends that would just love to help him out with a fight. Sometimes guys love their gay friends. Awwwww.
Josh Haffa | Madison, Junior
A two-time All-Met, Haffa led Prep to its second straight Metros title with wins in the 100 freestyle and 100 backstroke, earning an all-American qualifying time in the latter. Josh got into swimming after a neighbor friend got into a car accident and became paralyzed. Josh used to be sort of the neighborhood bully and would always taunt the boy who always swam in his backyard in speedos. 'I always surfed so I never understood that whole swimming-with-speedos-on thing and yeah I used to give my friend tons of grief till he almost died in that accident'. After the accident Josh became closer to his dependant friend and decided swimming would be a way to honor him. Not surprisingly they're both best of friends now and Josh helps him in the pool. 'I've learned a lot what it means to be able-bodied and I'm lucky for that. I'm happy being in a pool and it don't really matter what I'm wearing, hell sometimes I'll just go naked with my friend just to get more into the whole natural water thing, I know I'm weird but I don't care who knows'. GSR doesn't think Josh is so weird...
Zach Hayden | Castle Hill, Junior

Captured California AAA titles in the 100 breaststroke and 200 individual medley with automatic all-American times, including a state record in the 100 breaststroke (57.81). Won Northwestern Region titles in those events. Zach is the co-captain of the swim team and that is a fantastic achievement for a junior. Zach has natural leadership qualities important in swim meets and all the guys really look up to him especially after coming out. 'Yeah I had doubts the guys would tease me but it's all good and it's better being out as a

gay teen 'cause the guys respect me more'. Asked if he was in a relationship, he just smiles and says he really doesn't have time for one and that he's into guys, just not guys like those on his team... or school. Asked to elaborate Zach says he prefers older 'men'. Gay guys with maturity and know how to be with a younger guy like him. 'I'm not looking for a father replacement but I do tend to like the older crowd, just as long as they don't act like my teenage sister'. Umm, we'd have to agree with Zach on that one, some older gay guys are super hot.


---
The All or Nothing Attitude of Wyatt Watson
Speedo Boy is his nickname, but to those who know Wyatt Watson, it is much more than that. To his teammates, his coach, his family and friends, he actually is a swim freak. He acts like a dolphin , he makes dolphin-like expressions and he occasionally gets himself into trouble with a curious dolphin-like style and to top it off they all know he's gay and don't care.

"I swear to God, he is a dolphin," said his coach through two Junior Olympic Games, Guy Baker. "You should see the way he swings around the weight room and the pull-ups he can do. He jumps around and, umm, he has been known to hug on other guys a lot and the funny thing is the straight guys love the attention this gay guy gives them."

Teammate and close friend Kyle Roberts was reluctant to divulge any information on the source of the nickname. "A bunch of us gave him the nickname in 2000 when we were training before the Junior Olympics and he came out as a gay guy," he finally revealed. "It came from a bunch of things, but mostly it is a reflection of how much energy he has and the fact he had enough confidence to tell us he was a gay guy. It don't matter to us either way but for him to come clean was something that took some guts and we all love our own little gay boy. Sometimes it presents itself in crazy, sporadic ways- climbing or swinging from things… or people. He acts like a dolphin. It stuck and fits him so well, we love my little gay best friend, you better believe it."

But you wouldn't know any of this, especially that he's a gay teen, unless you really knew Wyatt. Unless you were in the weight room at 7 a.m. or stuck at the airport for endless hours, he would come across as a shy and laid back surfer dude. In fact, when his National teammates first met him nine months before the 2006 Junior Olympic Games in Sydney, Australia, he was the timid new kid on the team. It was only after he grew closer to the team and felt more comfortable that his true dolphin-like nature began to shine through and he could be comfortable with being a gay guy.

Despite his laid back nature, Wyatt was running around playing sports like an animal long before he picked up a water polo ball. He grew up playing baseball and surfing in San Diego and was very good at both. In middle school he was offensive MVP for his school all four years and, according to him, made the All-League team "a couple of years." He picked up surfing when his older brother and his girlfriend would take him along when they went to the beach on weekends.

"I didn't really get serious about it until I was 13 or 14," he said. "A fellow water polo buddy surfed for his middle school surf team and I'd tag along with him and borrow his boards. He gave me pointers and I watched his every move. When he paddled, I paddled. You just have to have the balls to go for it and not be afraid to fall. I think that's the best way to learn. I got my first board from my gay uncle for my 13th birthday. I still have that board and it's still in great shape. I've treated it like a new born baby."

It wasn't just surfing that Wyatt treated with an all-or-nothing attitude. Midway through middle school, his water polo talent began to draw attention and Wyatt went for it. By the time he was 16, he had played on the U.S. youth and junior national team and he knew that water polo, above softball or surfing, would be his future.

"Wyatt was born with an athlete's body and all the gay teen boys in his school adore him," said Petri. "He is naturally strong and coordinated. He has an instinctive fluidity in his movements that makes it easy for him to pick up sports that would take others considerable amount of practice. I'm glad he picked water polo."

As a gay teen, people began to take notice of Wyatt's amazing athletic ability, especially in water polo and out in the surf. His interest and love of both sports began to grow with the attention and recognition.

"I played year-round baseball for as long as I could remember and actually fell in love with my teammate who turned out to be a gay guy too but didn't come out till college By the time I was 12, I had dropped year round baseball and made water polo my new focus."

He played every chance he could in the off season. Even when in baseball season, he was mentally preparing himself for water polo.

"I was kind of a spaz and always needed to be doing some sort of physical activity," Wyatt said. But his interest and enthusiasm for water polo soon outweighed his need to play other sports.
---
Featured Speedo Boy: Riley W.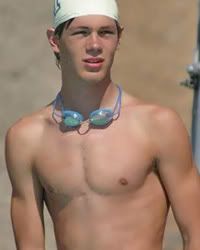 At a time when most teenagers are contemplating the future, Riley can already reminisce about the past.

Riley, an 18-year-old freckled swimmer from La Jolla, CA, has already competed at one Junior Olympic Game, two world championships and a Commonwealth Games.

He still can't legally drink in his home town but will be one of the veterans on the 64-member Southern California team that will compete at the Pan Pacific Swim Championships that begin Thursday in Los Angeles.

"It's a whole new ball game," Riley said during a national team training camp in La Jolla. "I feel more like the veteran of the team. Some of the swimmers who are 18 and are rookies here, I feel older than them for some reason. "In a way I feel like I am taking a mentor role. especially being a gay teen."

Pierre Lafontaine, Swimming La Jolla's chief executive officer and a national team coach, said Riley is a quiet leader. He doesn't slap people on the back or lead the cheers from the pool deck. Instead, Riley is more likely to share a few words with a teammate who is down or offer some advice to a young swimmer trying to fit in. Being gay, Riley understands being an outcast but it's never hindered him from excelling as a gay swimmer or student athlete.

"He is quietly taking some of these kids under his wing and working with them a little bit," said Lafontaine. "When He does well he's quiet with his victory. The other swimmers are looking up to him and they have no problem with him being a gay guy, none whatsoever."

One of the guys following in Riley's footsteps is Thomas King, a 14-year-old from Seattle, WA. King beat Riley in the 1,500 meters at the Pan-Pac trials and the two have spent time training together. "Yeah he's gay but big deal, he's an awesome swimmer and a really cool guy plus he's super cute and all the girls come over and he introduces me to them".

"It's good for someone like me to have someone like that," said Riley. "I can't really get the kind of competition I need in SoCal. I'm often forced to go to Northern California. At least I have one other person going through the same things as me, the same kinds of pressure as I am."

Riley has come through with some clutch swims in his young career. At last summer's world championships in Washington he helped a wobbling team find its feet by winning a silver medal in the 800-metre freestyle and a bronze in the 1,500. He also won a bronze in the 800 meters at this year's Commonwealth Games in Denver, Colorado.

It's been a year of transition for Riley. He came out as gay teen and left home and also left his long-time coach Cory Beatt to live in La Jolla and work with veteran Bud McAllister.

"It's a little bit of a stepping stone for me," he said. "There have been a lot of changes,"

Lafontaine said it's been an important learning curve both in and out of the pool for the gay teenager. "I'm glad all these adjustments were done this year

"What he's had to do over the year is find out he isn't swimming for anybody else. He's really doing it for himself and California."
[Click For The Gay Surf Report]